The Barnby Choir, based in Wilmslow, Cheshire, has approximately 60 members of all ages and from all walks of life. We share a love of choral music and a desire to produce exciting performances to a high standard. Our repertoire includes major sacred and secular choral works as well as more unusual music, both traditional and modern.
We meet for rehearsals on Tuesday evenings from September to May, and put on three or four concerts a year, frequently with professional soloists and instrumentalists. Rehearsals are held from 8-10pm at
Wilmslow Methodist Church, Kings Court, 37 Water Lane, Wilmslow SK9 5AR. Please visit our Members' Area for current rehearsal arrangements.
We also run an annual Singing Day, open to singers across the region, and organise a number of social events throughout the year.
We are always pleased to receive applications from prospective members in all sections of the choir (soprano, alto, tenor and bass), and we are currently keen to expand our numbers for what promises to be an enjoyable year both musically and socially. If you are interested in joining us, please contact the Choir Secretary on 0161 485 1659, or email us using the form below. For further information about membership, please click here.
New season
We are now embarking on our 2022/23 Season (our 77th!), and new members will be made most welcome at our Tuesday rehearsals from 6 September. Full details here.
We have some exciting programmes to look forward to (see Concerts above), but before that we are delighted to announce the return of our Singing Day on Saturday, 15 October, and look forward to welcoming singers from across the region. For further information and a booking form, please click here.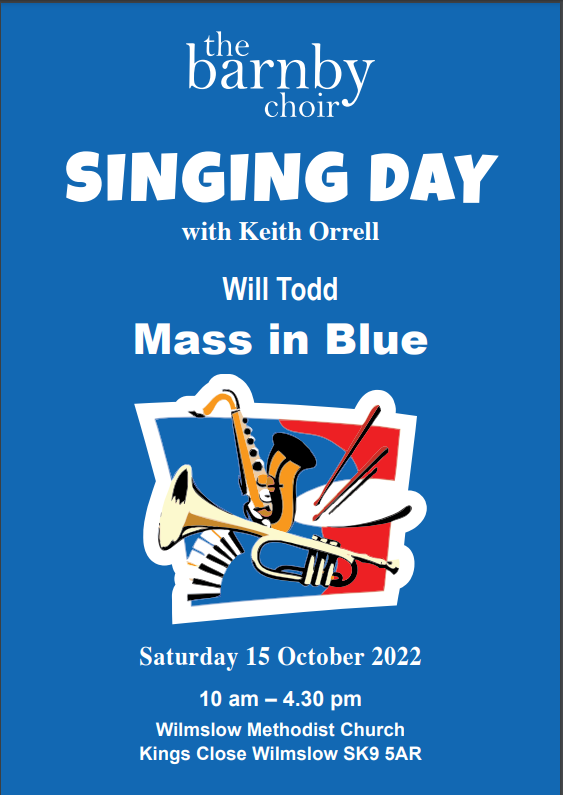 A dinner to celebrate the 75th anniversary of the founding of the Choir, postponed from 2020, was finally held on a lovely summer's evening at the Deanwater Hotel, Woodford. It was a truly memorable evening, attended by members of the choir, former members, spouses, partners and friends.
In particular we were delighted to welcome Andrew and Richard Barnby, sons of the choir's founder, Bertie Barnby, and their wives Ineke and Jane; former conductor, Peter Stallworthy and his wife Hilary; current conductor, Lloyd Buck and his wife Stephenie; and Stephen Reynolds, our recently retired accompanist.
During the evening, a celebration cake was cut by Carol Leather, Barbara Welton and Margaret Scott, all of whom sang with Bertie, and a presentation was made to Stephen in appreciation of his 20 years with the Choir. In conclusion, Andrew Barnby addressed everyone and raised a toast to the Barnby Choir – past, present and future!
A pictorial record of the evening is available to view here