In 1945 the Reverend Ron Jones, curate of Stand Church near Whitefield in north Manchester, formed a music club and invited his friend, the Reverend Bertie Barnby, who was on the staff of Manchester Cathedral, to coach a few singers to add a choral dimension.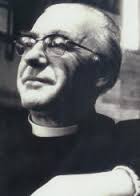 Bertram Louis Barnby, or Bertie as he was familiarly known, came from a very musical family. His father and grandfather were both professors of music at the Wilberforce School for the Blind in York, and his great uncle was Sir Joseph Barnby, the Victorian composer and one time principal of the Guildhall School of Music. He willingly agreed to form a small choir.
At the first meeting there were six singers and they gave their first concert on 6 September 1945 with a programme which included 'The Marv'llous Work' and 'The Heavens are Telling' from Haydn's Creation. The group grew rapidly and became known as The Barnby Choir.
Initially rehearsals and concerts were held in the Cathedral, but when Bertie moved to a Rochdale parish in 1950, he took the choir with him. The organist there at the time was Ronald Frost, who went on to become chorus master of The Hallé Choir and organist and choirmaster at St Ann's Church in the city centre. During this period The Barnby Choir regularly took part in the 'Epilogue' which was broadcast each evening on the radio.
As Bertie moved parishes over the years, the choir moved with him – to St Michael's in Bramhall in 1956, and to St Bartholomew's in Wilmslow in 1969. But when in 1976 Bertie left the Manchester area for the first time and moved to West Kirby, he was unable to continue running his choir, after 31 years. However the choir retained its base in Wilmslow, and formed a committee to run its affairs. It has remained in Wilmslow ever since.
In 1982 Bertie retired and moved to Scarborough. Having been made Life-President of the choir after his move to West Kirby, he continued to take a lively interest in its activities. In November 1995 he came to the Golden Anniversary Concert and in March 1996, although extremely unwell, attended the Golden Anniversary Dinner. He died in November 1996 at the age of 83. The family connection is maintained by his elder son Andrew who, although he has lived at some distance for many years, regularly attends our concerts.
Our conductors
1945-1976 The Reverend Bertie Barnby

1976-1978 Paul Bryan

1978-1990 David Greensmith

1990-1993 Ann Greensmith

1993-1999 Andrew Dean

1999-2013 Peter Stallworthy

2013- Lloyd Buck
The above is an abbreviated history of The Barnby Choir. A copy of the full history can be obtained from the Secretary on 0161 485 1659.