Sir Joseph Barnby (1838-1896) was a prominent English musician and composer in the second half of the nineteenth century. Although his output of published works was prolific, he is more highly regarded today for his influence on the Victorian musical scene.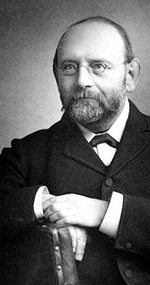 He was born in York in 1838, the youngest of a family of fifteen children. His father, as well as running a boot and shoemaking shop on Swinegate, played the church organ and passed on his musical skills to his family. Joseph became a chorister at York Minster at the age of seven, following in the footsteps of six of his brothers, and at the tender age of twelve was appointed assistant organist and choirmaster, also at the Minster.
When he was sixteen, he moved down to London to study at the Royal Academy of Music. Two years later, he entered a competition for the first Mendelssohn Scholarship, but was beaten into second place by the young Arthur Sullivan.
He was organist at several London churches including St Andrew's on Wells Street and St Anne's in Soho, and during this time composed an enormous number of church services, anthems and hymn tunes. In 1869 he formed his own choir (the first Barnby Choir!) which gave the London premiere of Bach's St John Passion. Three years later, his choir amalgamated with Charles Gounod's choir to form the Royal Albert Hall Choral Society, now the Royal Choral Society. As well as introducing London audiences to old masters such as Bach, he also invited contemporary composers to give the British premieres of their works, including Verdi with his Requiem and Dvorak with his Stabat Mater.
In 1875 he was appointed Precentor at Eton College, and stayed there 17 years. He left in 1892 to take up the post of Principal of the Guildhall School of Music, and was knighted in the same year. He died in 1896, and his funeral was held at St Paul's Cathedral.
From a long list of his works, only a handful have stood the test of time – his part song setting of Longfellow's poem Sweet and Low, the hymn tune O Perfect Love set to the hymn of the same title, another hymn tune Laudes Domini set to When Morning Gilds the Skies, and two school songs still sung at Eton College, Carmen Etonense and Vale.